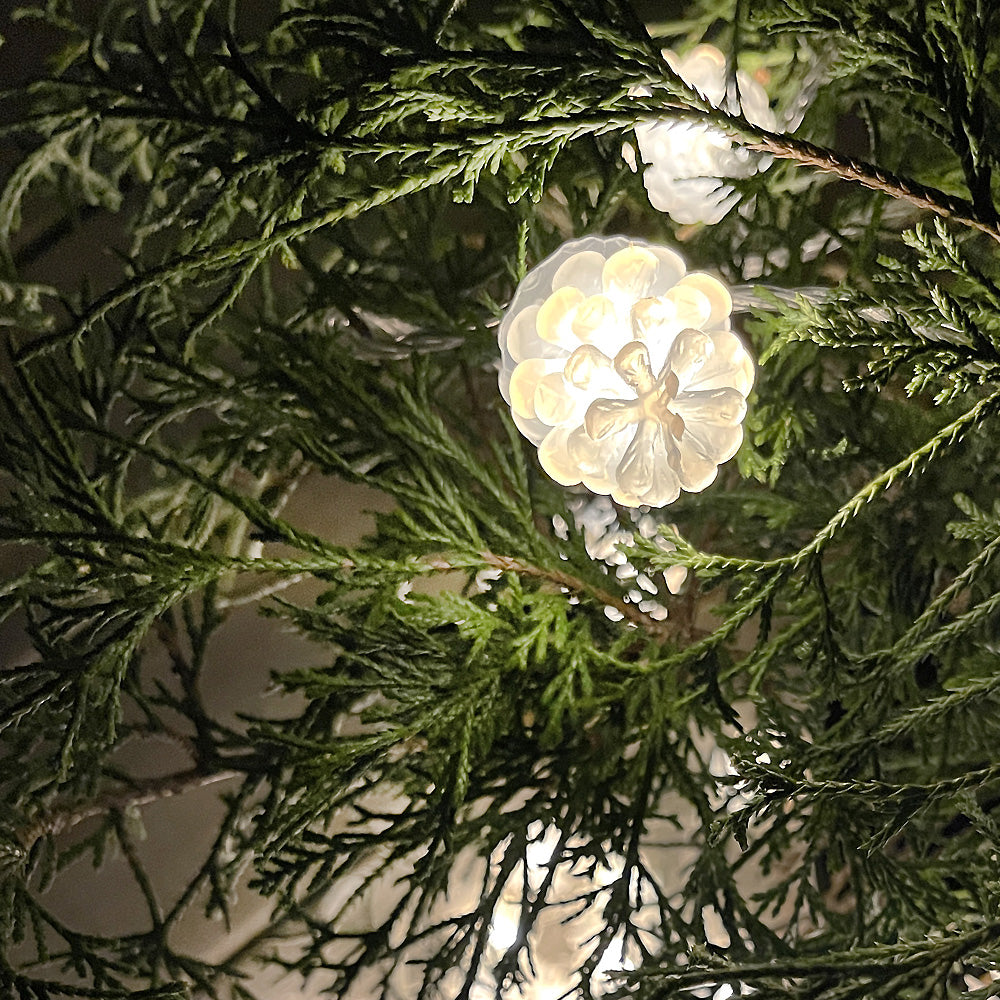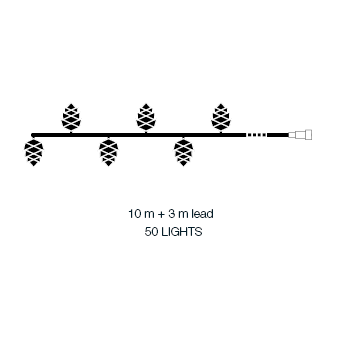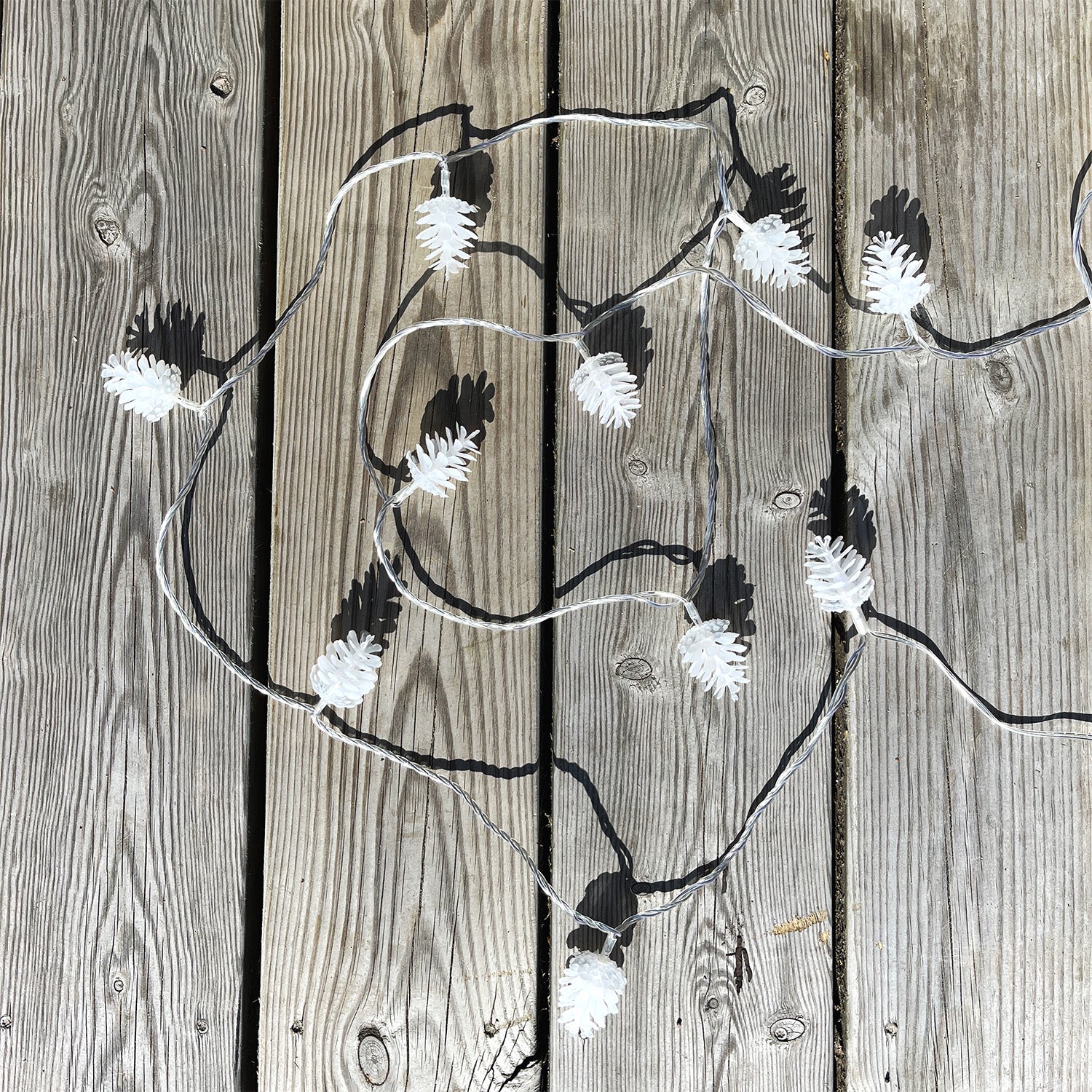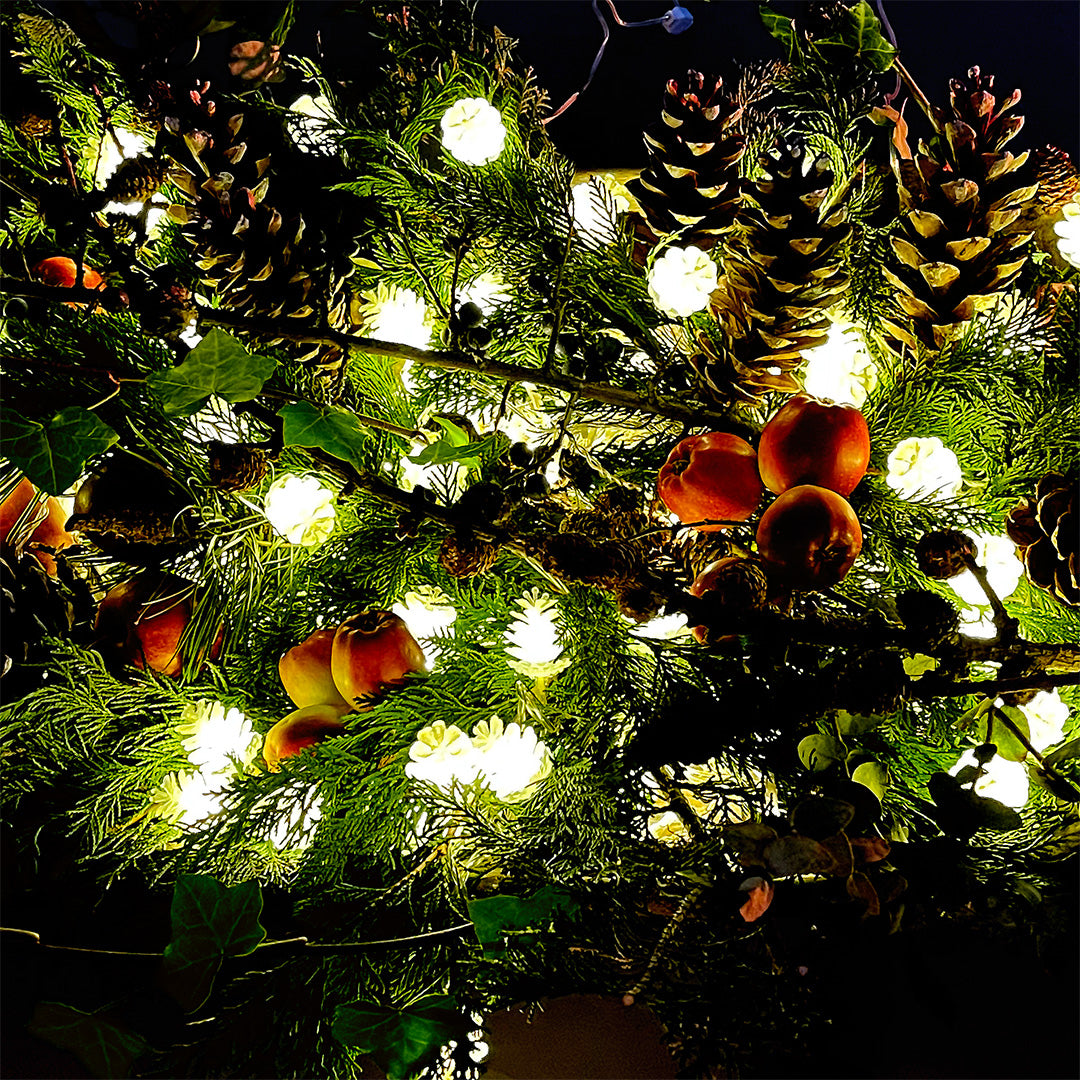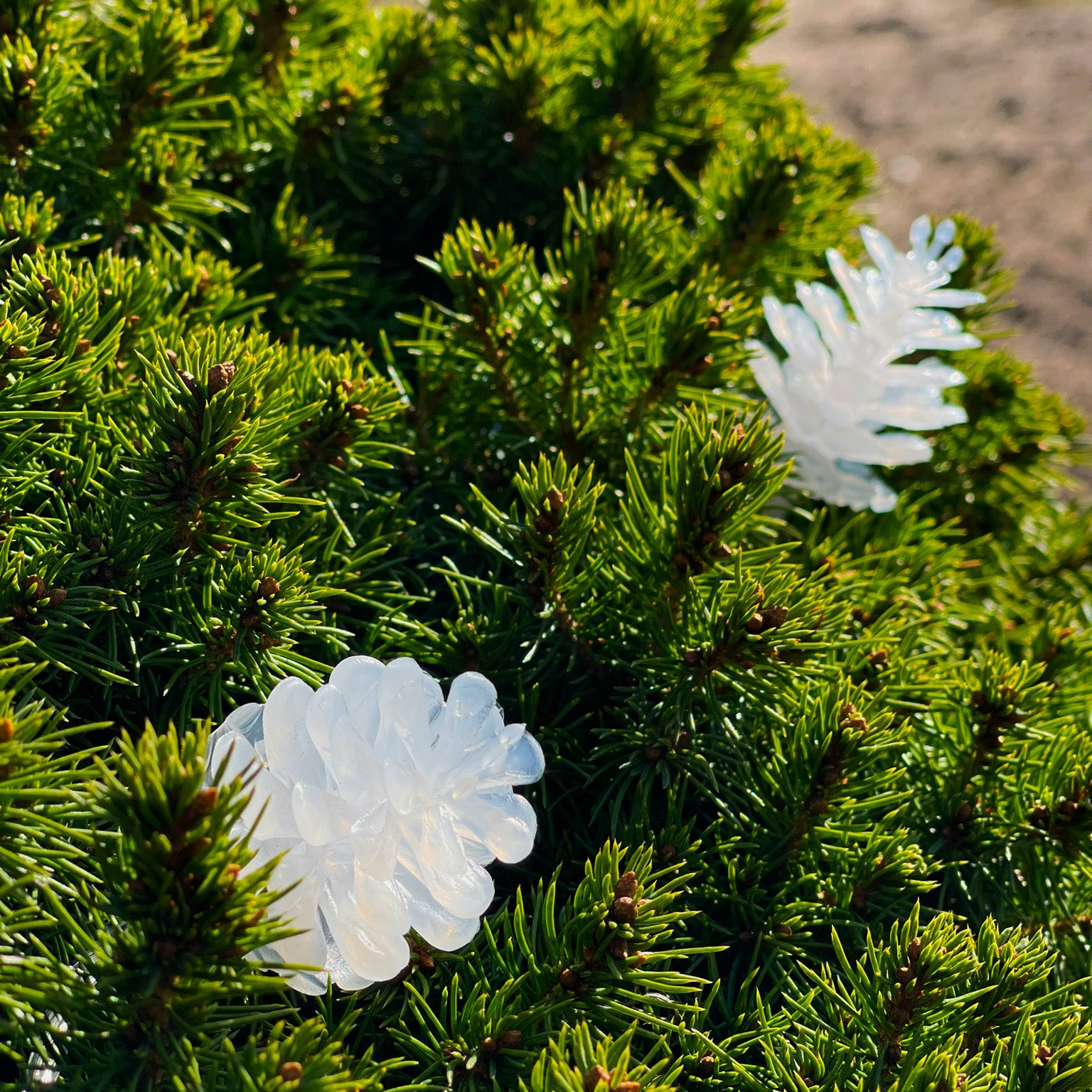 Pine
Pine is a 10 meter light string with 50 small white sparkling pine cones.
The light string Pine creates magic in almost all environments. The 50 small white sparkling pine cones spread a warm white light in the Christmas tree, or along the rails of your balcony. Or why not create a little piece of art by putting the whole string in a glass vase.
Note: Pine is not extendable, so you cannot connect several Pine in a row. If you want more than one, please connect them individually to a splitter instead.
Garden Plug & Play by LightsOn. A flexible 12-volt lighting system for your garden. Easy to install and easy to extend (max 50m) to reach all parts of your garden. Designed in Sweden for the tough Nordic climate, all components are made of durable and weather proof materials, guaranteeing a long maintenance free life.
Don't forget the transformer. Choose a transformer that suits the total wattage of all your lamps. For optimal life we recommend that you load your transformer with no more than 85% of the max capacity.
Keep it simple! Add a photo cell that automatically turn the lights on in the evening and off again at dawn.
Would you like a softer light? Connect a LightsOn dimmer before the lamp.
• 12 volt AC
• 50 pcs LED
• 6 watt
• IP44
• Warm white light(3000°K)
• Transparent
• 10 m + 3 m start cable
• Dimmable with LightsOn dimmer
• Pine is not extendable
Not finding what you need?
Click the button to reach the media bank that contains documents for all LightsOn products
Inspiration
Christmas table decorations
Now that Christmas is approaching, you can be motivated by Helena's inventive floral decorations made with our Christmas sting lights.
Christmas begins early at Lilla Makeriet. That's how it is for many company owners, especially if the products need to be finished in time for Christmas. Immediately following the summer, the ceramics production has already begun. Here, ornaments for the tree and Christmas presents, red apples, pomegranates, gingerbread houses and animals are bestsellers. For Christmas I also do some flower arrangements. I sell whimsical firs and wreaths for example at the Christmas markets. As mentioned, it's important to me that I use items that I find in the nature or that are cut down in gardens during the fall when I tie fir trees, wreaths, etc. Thuja, noble cypress, pine, elm, ivy, etc. are common plants in gardens. All of them are gorgeous when it comes to holiday decorations. Why not reuse them? Pine cones can be found in great numbers in the forests, and a little tip is that they will begin to open up when heated up a little.
Large Christmas decoration
I have a basic decoration for Christmas on the large table and a slightly more intricate one on the small square table.
I continue to use the same old wooden tray as before. I adore its delicate expression and size, but the drawback is that it doesn't have holes in the bottom, so rainwater cannot pass through. This is something you should take into account when selecting troughs, pots, and vases for outdoor decorations.
Two different Christmas lights were used in this decoration - Glimmer and Pine. Glimmer gives me a support to stick the stems in as well as a background light. I won't need to buy Oasis this way. The light chains are just jumbled together like in the first trough. In this bird's nest of cords, I stick the twigs down. I have mixed cypress, ivy, eucalyptus, branches from larch and sedge, pine cones and apples. If you don't have an apple tree at home, see if you can find one on your walk. The smaller size of wild apples and apples from wild apple trees fits well in the decorating.
Making the decoration is really simple. I simply pushed the branches into the ground until the entire trough was full. I've now set the apples and cones in place. I've positioned a lovely rowanberry branch covered in lichen and full of berries as the centerpiece.
A wonderful decoration both during the day, when you can see all the details, and in the evening when the light expresses the delicate work!
I have strung miniature cone decorations over the table. Although they are quite adorable, they thrive in a protected area where they are not tangled up in one another. Making the cone ornament is simple. I start by threading a cone. Cones are threaded by wrapping a piece of stronger wire (I use elephant wire) around the base of the cone and twisting the ends. You can use any other cone in place of the enormous ones I've chosen. I utilize the two wires that now extend from the cone to secure bouquets of lamb's ear, silver heirlooms, and silver garland as well as branches of noble cypress. After I'm done tying it together, I let the steel wire (bobbin wire) hang by 1 m in length. This will be the suspension thread. In order to conceal the stems, which are now at the top of the decoration, I wrap jute cord around them. Done!
Wreath with cylinder vase
I built a wreath and placed it on the small table. The wreath blends coniferous and leafy plants in shades of grey and green together. The combination of leaves and needles gives the ornamentation an adventurous and tender feeling, which I adore. The first time you tie a wreath, it can feel a bit challenging, but if you cut the foliage ahead of time and go about it carefully, you won't have a problem. I begin by encircling the straw wreath with flower wire. Steel wire that is a little bit thinner will do if you don't have flowery wire. The easiest is to tie from the outside and down through the wreath.In this way, you lock the steel wire with the weight of the wreath when you release it to cut/take green. I collect the green in small bouquets which I then wind one by one onto the wreath. I used noble cypress, pine, ivy, sedge, lamb's ear, and silver heirloom as the greens. Don't forget to include the sides as well. As the wreath rests against the table, the underside can be left bare without requiring your attention. I fasten the floral wire once I've wrapped the entire wreath around it to prevent it from winding up again.
A wreath wrapped around a straw wreath is particularly forgiving because any errors can be readily fixed afterwards. Using threaded embellishments (cones or small bouquets of greenery) inserted into the straw wreath, you may fill in any empty spaces or add some cones as decoration. If you don't want to thread, you can use a glue gun to glue the decorations on.
I have placed the wreath directly on the table. Inside, I have put a glass cylinder vase where I put the Christmas lights.
Wonderful, isn't it? The grey-green tones give a wintry touch to the decoration and the illuminated cylinder gives it a modern angle. Now we just have to wait for the first snow!