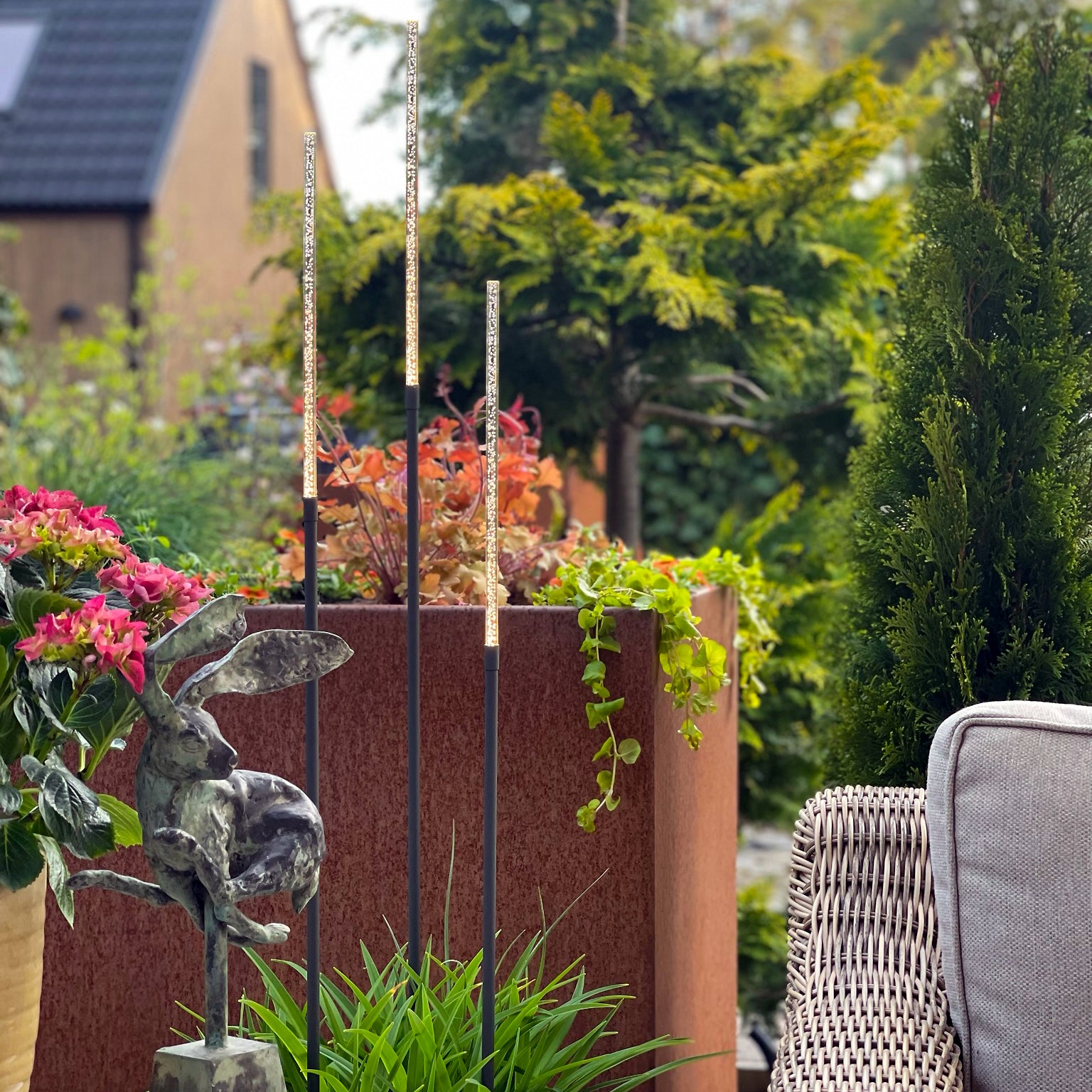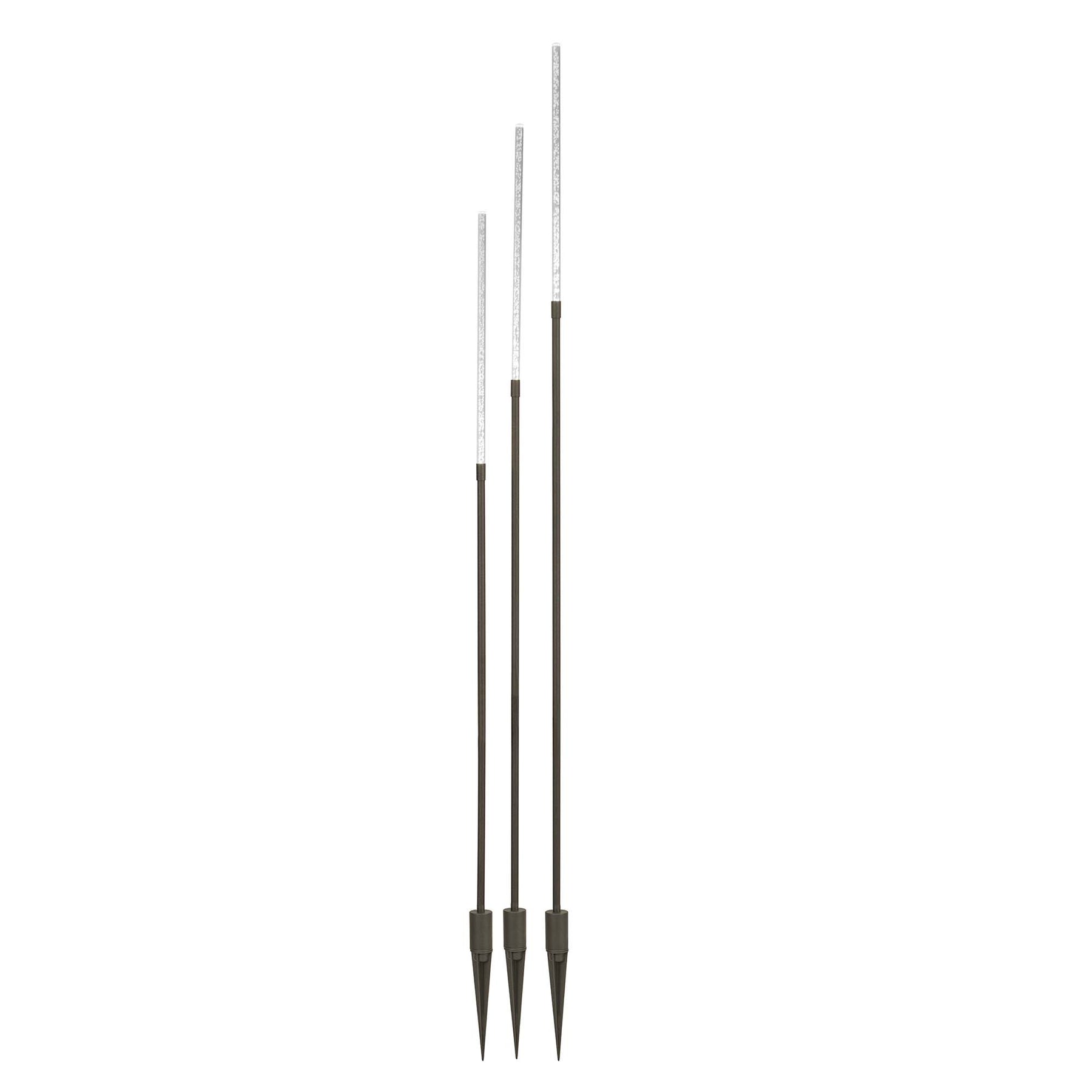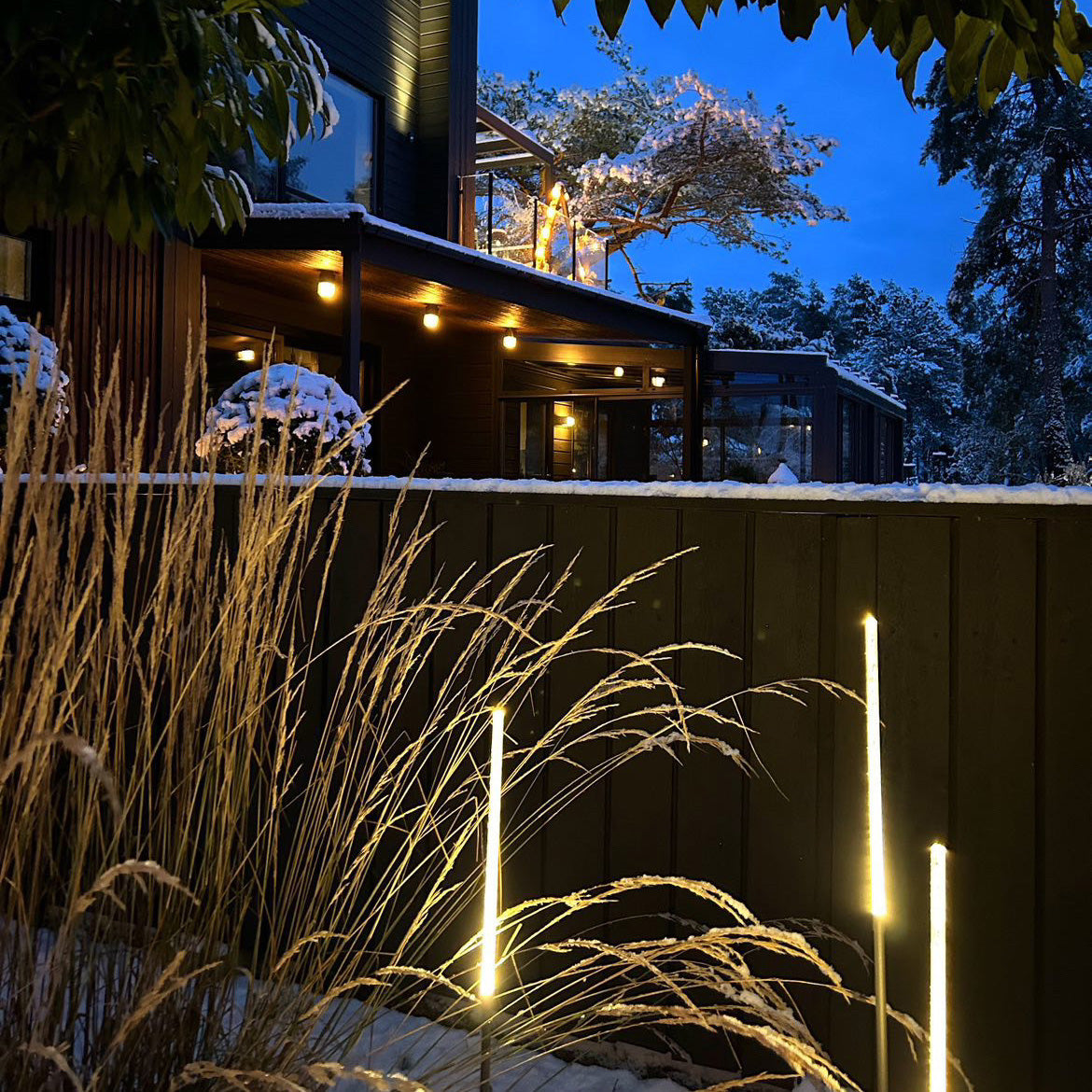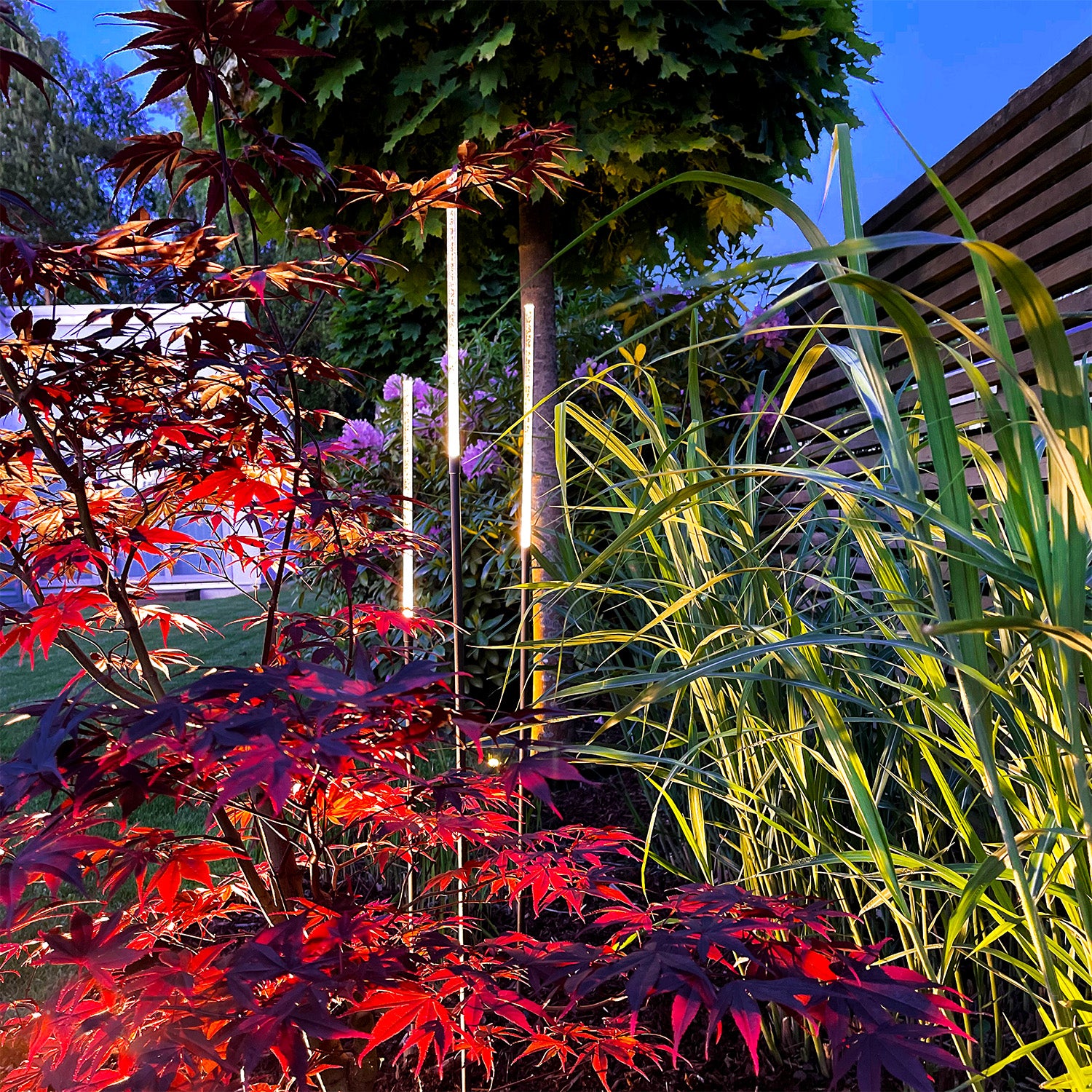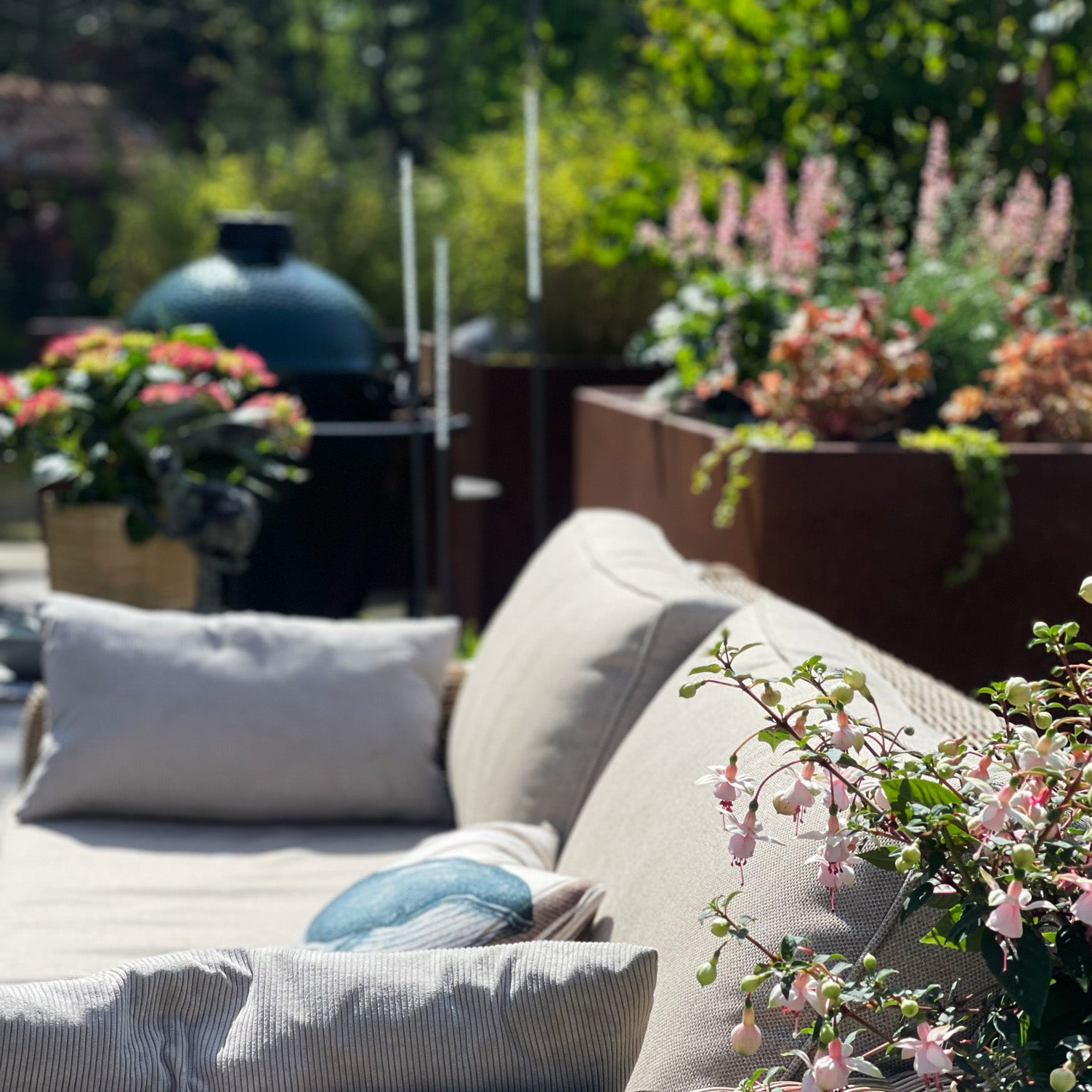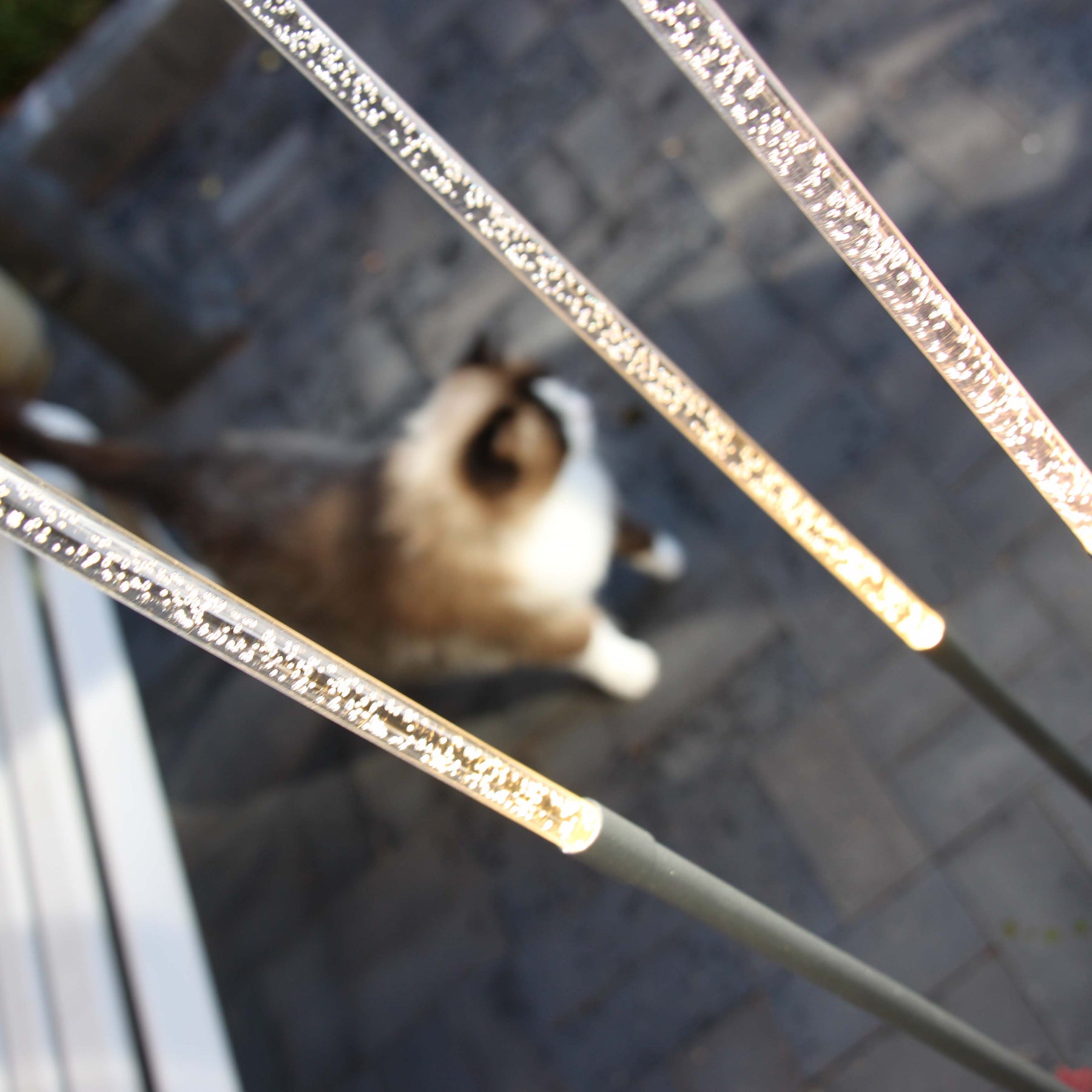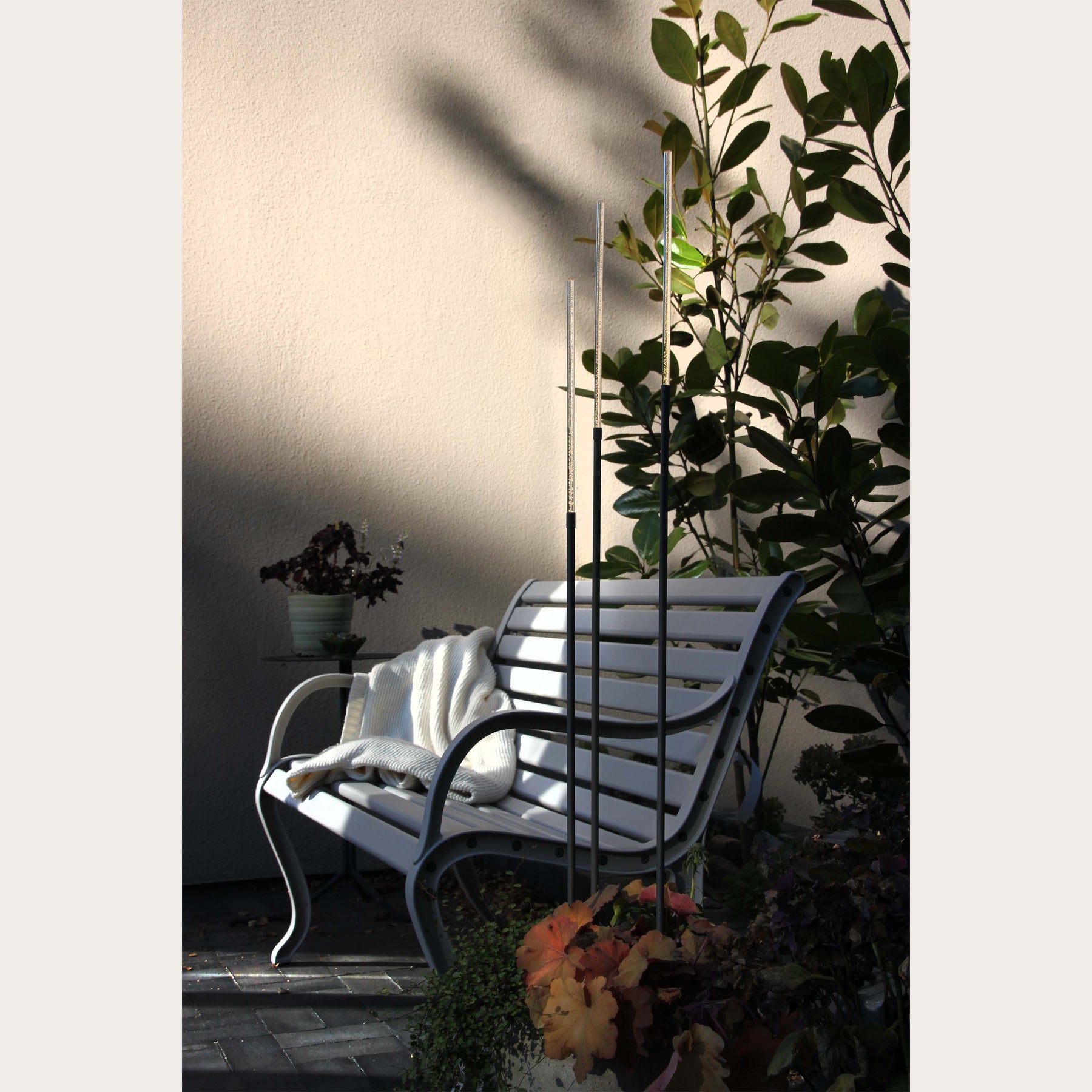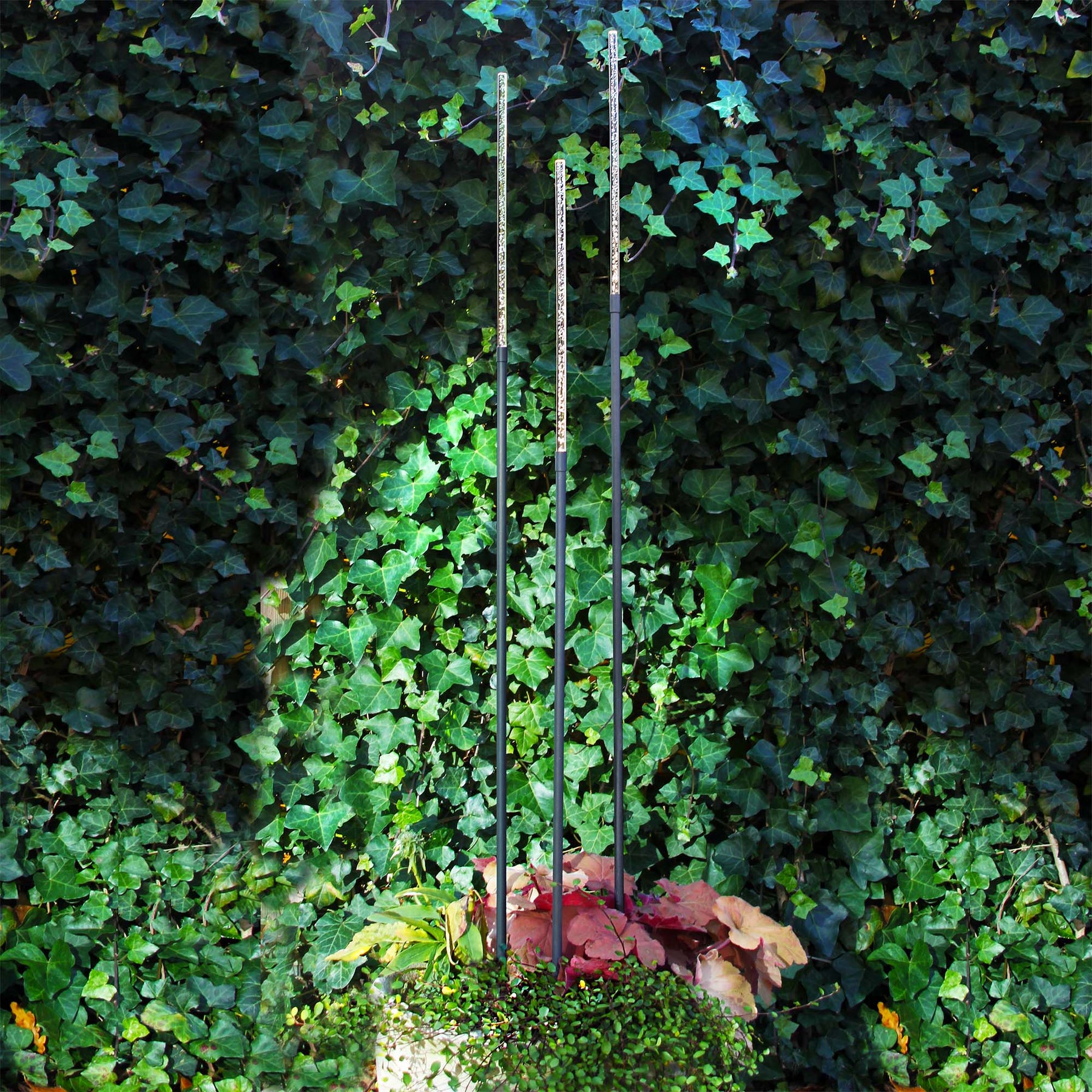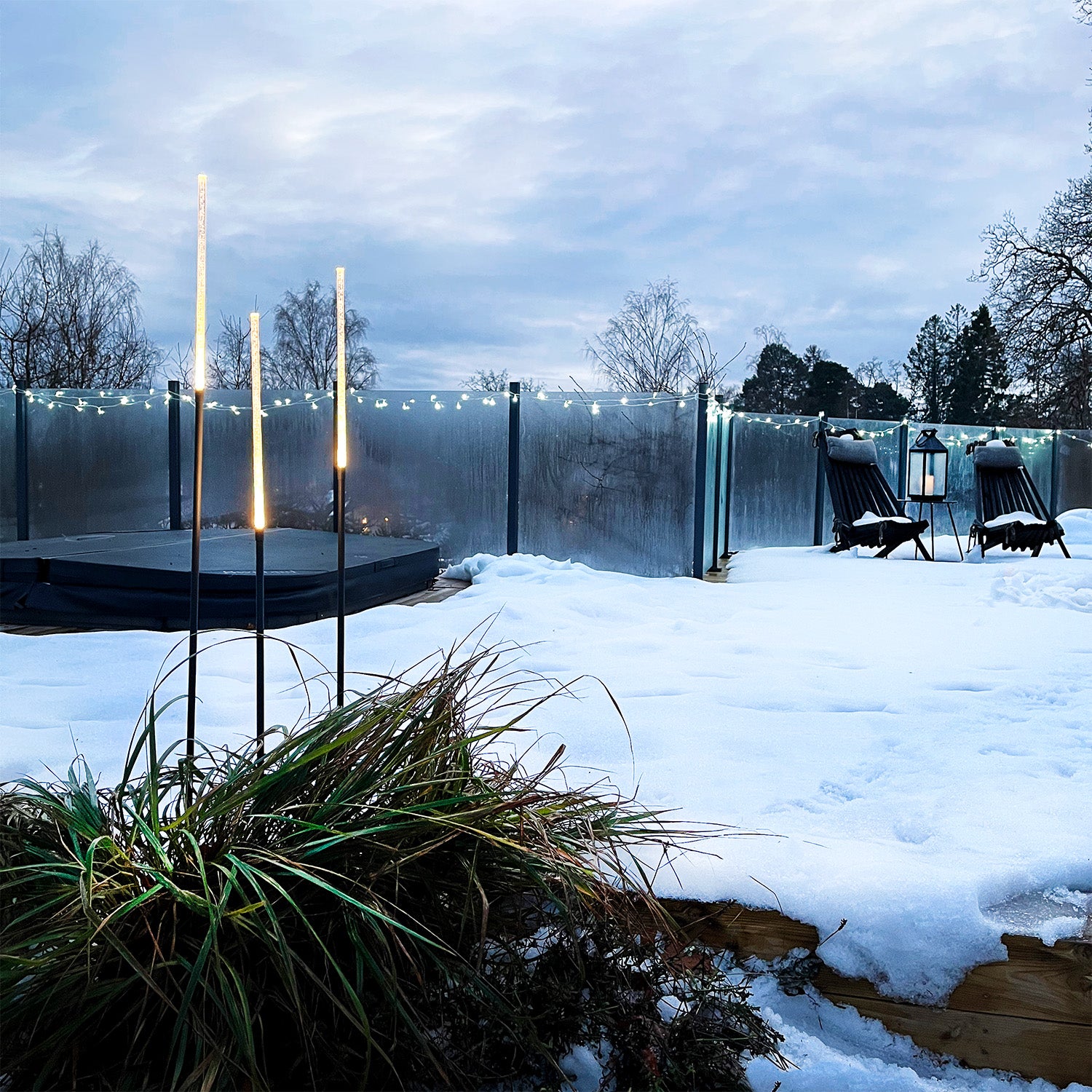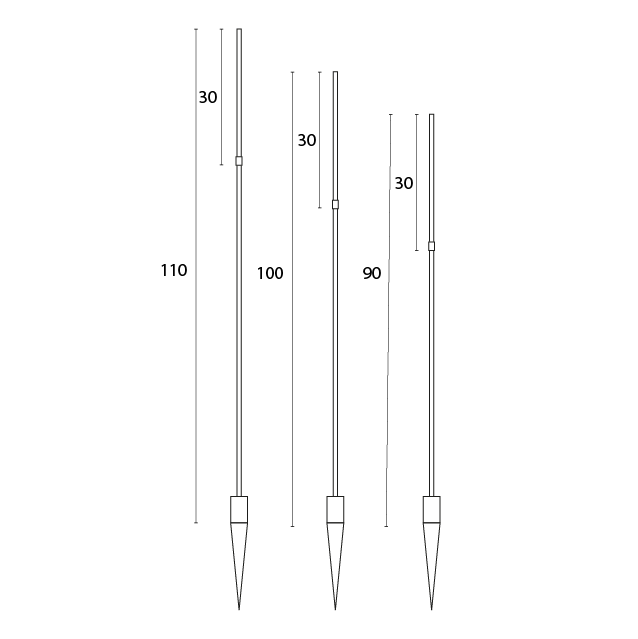 Stix
With Stix you set an excellent mood. For example, use it in a tall grass environment, or create a unique installation by placing a larger number of Straws together in a cluster formation.
With Stix you set an excellent mood. For example, use it in a tall grass environment, or create a unique installation by placing a larger number of Straws together in a cluster formation.
Garden Plug & Play by LightsOn A flexible 12-volt lighting system for your garden. Easy to install and easy to extend (max 50m) to reach all parts of your garden. Designed in Sweden for the tough Nordic climate, all components are made of durable and weather proof materials, guaranteeing a long maintenance free life.
Don't forget the transformer. Choose a transformer that suits the total wattage of all your lamps. For optimal life we recommend that you load your transformer with no more than 85% of the max capacity.
Keep it simple! Add a photo cell that automatically turn the lights on in the evening and off again at dawn.
• 12 volt AC
• 3 x 1 watt LED (integrated light source)
• 3 x 20 lumen
• IP44
• 360° beam angle
• Warm white light (3000°K)
• Dark grey powder coated aluminium, acrylic glass
• 110 cm, 100 cm and 90 cm
• 70 cm cable
Not finding what you need?
Click the button to reach the media bank that contains documents for all LightsOn products
Så vackert tillsammans med en kruka med tallris på verandan
Inspiration
Autumn inspired table decorations
Helena Brahe, decorator and ceramicist, looks for treasures in nature and in the garden to create two beautiful decorations for the patio.
All the parts needed for decoration can be found at the bottom of the blog.
Treasure Hunting
When the clear, crispy days at the end of summer is here, the creative part of my brain always gets in gear - I want to get out in the garden and decorate!
On my (often long) hikes I usually bring a basket or a backpack. Our magical Swedish nature has so much to offer - flowers, berries, mushrooms etc.
(Further down you can read about the unique Swedish law "Allemansrätten". It's important to be aware of this when you are out in the nature hunting for treasures.)
I love that you, with a limited budget and a little help from nature around us can make wonderful decorations. Don't discard the withered and dried up flowers and plants. The autumn colours – brown, red, orange, lilac and so on, are lovely to combine and don't forget to include the little seed pods, they are part of the magic. The combination of dried seed pods, berries, fruits and flowers provide for an exciting mix.
The things you can not get in the wild, you can many times find back home in your garden. Have a walk around take a good look at what's there. It is often a whole lot more than you first think.

The table decorations
Preparations
For my table decoration I have used an old baking tray in wood. The elongated shape fits well on our long garden table. I love the fact that the pan is old and that you can see the little scars of time on it. Have a look and see what you can find at home - maybe a basket or a bowl.
At the bottom of the tray I have used Oasis. This is a flower arrangement foam that supports the position of the flowers and can hold large amounts of water in it. You can find Oasis in a variety of shapes and forms. The one I have used is a rectangular block. It is a less environmentally friendly solution than say for example chicken wire, but sometimes you can't have it all. Especially since you want to give the flowers water, despite some of them being placed horizontally.
I have split a block of Oasis in three equal parts, filled them with water and put them in three smal bowls at the bottom of the tray. Having a rather deep tray, I first added some old plastic bags at the bottom to reach the correct height for the Oasis.
In this decoration I have used two different types of lamps – Stix and Bliss. I install these before adding the flowers and decorations. Stix is placed along the length of the tray and two of the metal straws stick out at one end and one sticks out at the opposite end. I then spread the Bliss string of lights evenly throughout the tray. I thereafter collect all the cables at one of the ends.
A TIP: In case you have a hole for the parasol at the middle of your garden table, you could let the cables run through the hole to hide them away.

Let the fun begin!
When making a flower arrangement, you make your life easier by choosing plants that have good volume. For my decorations, I have used hydrangea from my sister's garden. Hydrangea provides a good foundation and has nice purple / green autumn colours. Another alternative can be heather which is also a good filler. You find it in nice warm colours and if heather turns out being illusive in the wild, you can always stop by a plant shop and pick it up there.
I have placed the long plants in line with the Stix light source. As decoration here, I have used long strands of blackberry bush, mugwort, wild carrot and ornamental grass.
I have peeled the leaves off of the axil and rowan as they otherwise dry and gets all tangled up.

Berries and flowers are placed in clusters. Rowan berries together with rowan berries, grapes with grapes and so on.
The clusters of the same plant / colour are placed diagonally over each other. That way I bring up the same colour / shape in another place without the decoration becoming messy. I have filled the remaining space with covering plants. In my case hydrangea. I have then covered any holes with apples. My choice of apples is ceramic ones from my own workshop Lilla makeriet, but the easy way to go would of course be regular apples.
If you have a round or square table, a round decoration could be the best choice. A round table decoration is made from similar plants. Due to the smaller proportions, I have not been able to use Stix, but only Bliss in the decoration.
I hope that you have gotten some inspiration from my work and wish you a great gardening season!
Helena Brahe, Lilla makeriet

ALLEMANSRÄTTEN
You can pick wild flowers, plants, berries and mushrooms as well as cones from the ground. You can also pick moss and lichens, but remember to do so carefully and not in large quantities, as mosses and lichens grow extremely slow and it takes a long time from the ground to recover.

Hazelnuts and other nuts need to stay where they are. That's because in the old days when pigs were inhabiting the forests, the nuts was their breakfast, lunch and dinner. However, you can always ask the land owner for permission and see what he / she says.