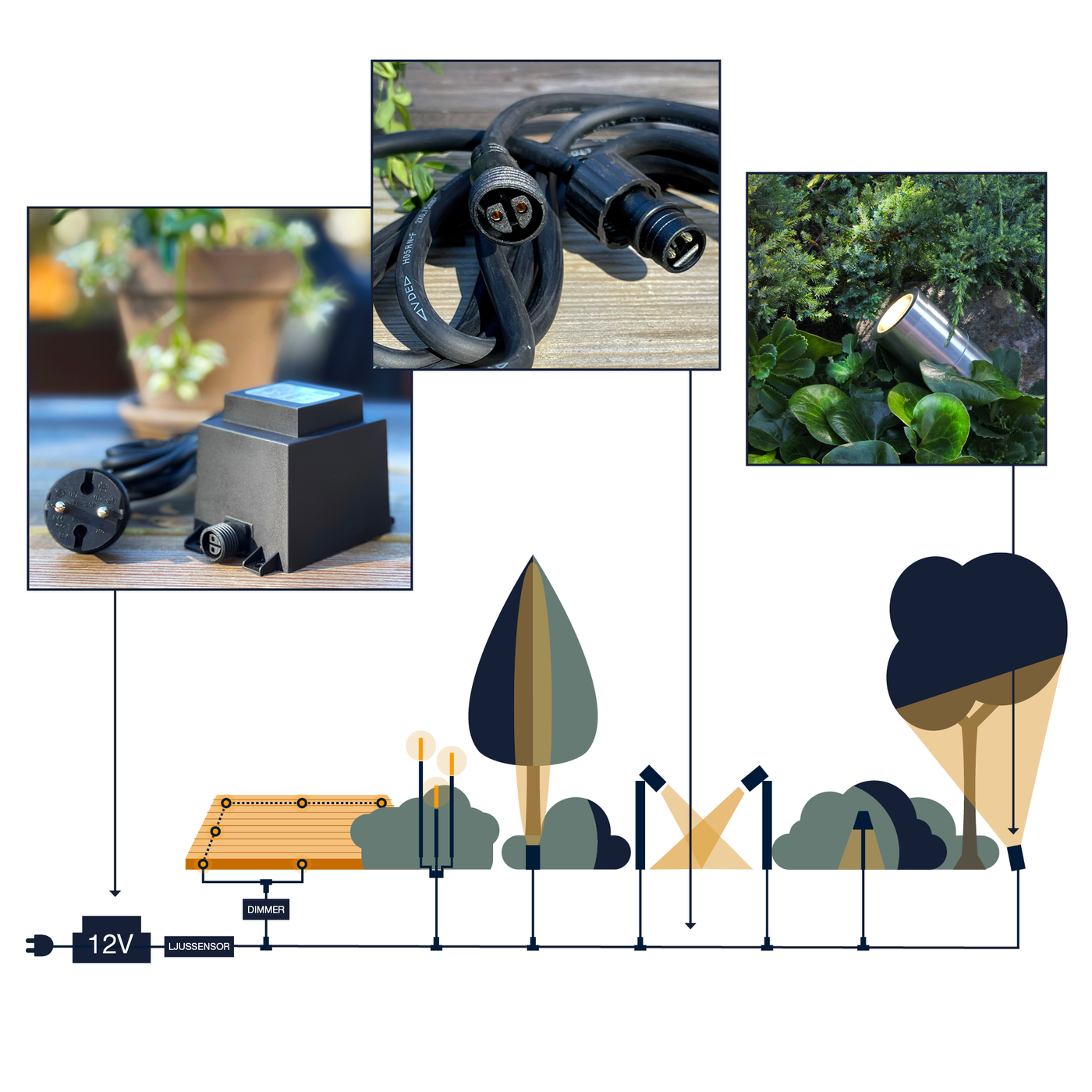 The system
Do it yourself
Installing lights that are powered by a 12 volt transformer is both easy and safe.
All you need is a power outlet outside where you can plug in a transformer (which converts the power output from 230V to safe 12V). The lamps need a transformer to work.
All that's left to do after that is to position your lamps and connect everything together with the adequate cables. There are a wide range to cables and splitters to choose from, so you'll surely find what you need. Safe and simple.
THE LIGHT
THINK LIGHT - NOT LAMP
When selecting your lamps it is vital to ask yourself what purpose the lamps will serve for your garden. Consider the following:
1. What effect am I looking for in my garden during the dark hours of the day? What are the main points that you want to highlight for aesthetic purposes, and what should be highlighted for practical reasons, such as pathways, a driveway or a garden shed.
2. Have a look at the various objects that you want to illuminate, for example an apple tree. How wide is the crown? How tall is the tree? Are there any limitations as to where the spotlight could be placed? Do you want a lot of light or just a gentle decorative effect? Choose the optimal lamp according to your personalized criteria.
YOU CAN DO IT!
Easily installed
The necessities
To keep in mind
transformer
1. Preferably choose a transformer that has a larger capacity than what your lamps require (leave at least 15% of unused wattage in the transformer for optimal life expectancy).
2. If you're already thinking of expanding your system later on you should prepare by starting off with a larger transformer.
3. The transformer can be placed pretty much anywhere, but does not like being submerged in water (for example due to heavy weather). Therefore, an ideal placement is mounted on a wall, or on a small stone or similar to get it a bit up from the ground..
Our transformers are available in 21 watt, 60 watt and 105 watt versions.
Cables
1. To ensure optimal lifespan and function from your lamps, the total cable length in your system shouldn't exceed a combined 50 meters.
2. You can place the cables on the ground or hide them in the ground for aesthetic reasons.
3. The cables can run freely and do not have to be pulled through plastic tubes when underground. However, if you already have a plastic tube to feed it through to pass under for example a paved path, that can be a convenient solution.
Our cables are available with the following specifications: 0,5m, 2,5m, 5m, 10m as well as splitter cables in lengths of 5m and 10m. There is also various splitters to make your life easier when putting the system together.
Light automation
Connecting a light sensor / photo cell to your system is a great alternative If you don't have an existing built-in automation in your house.
The light sensor can be programmed to power on and off the system in according to sunrise & sunset, or if you prefer, it can be set to keep the lights on for just a few hours after dusk. All up to you.
learn more
blogs to assist
Inspiration
Skapa din egen lysande pumpa och få en glimrande dekoration till entrén.
Inspiration
Här använder vi Cosy och loppisfynd för att skapa en mysig ljusslinga.
Trädgårdstips
Emelie Nisu, trädgårdsarkitekt, hjälper dig med hur du ska tänka för att att skapa en stämningsfull trädgård med trädgårdsbelysning. Hon ger dig 7 handfasta tips på väg till din mysiga och funktionella drömträdgård.