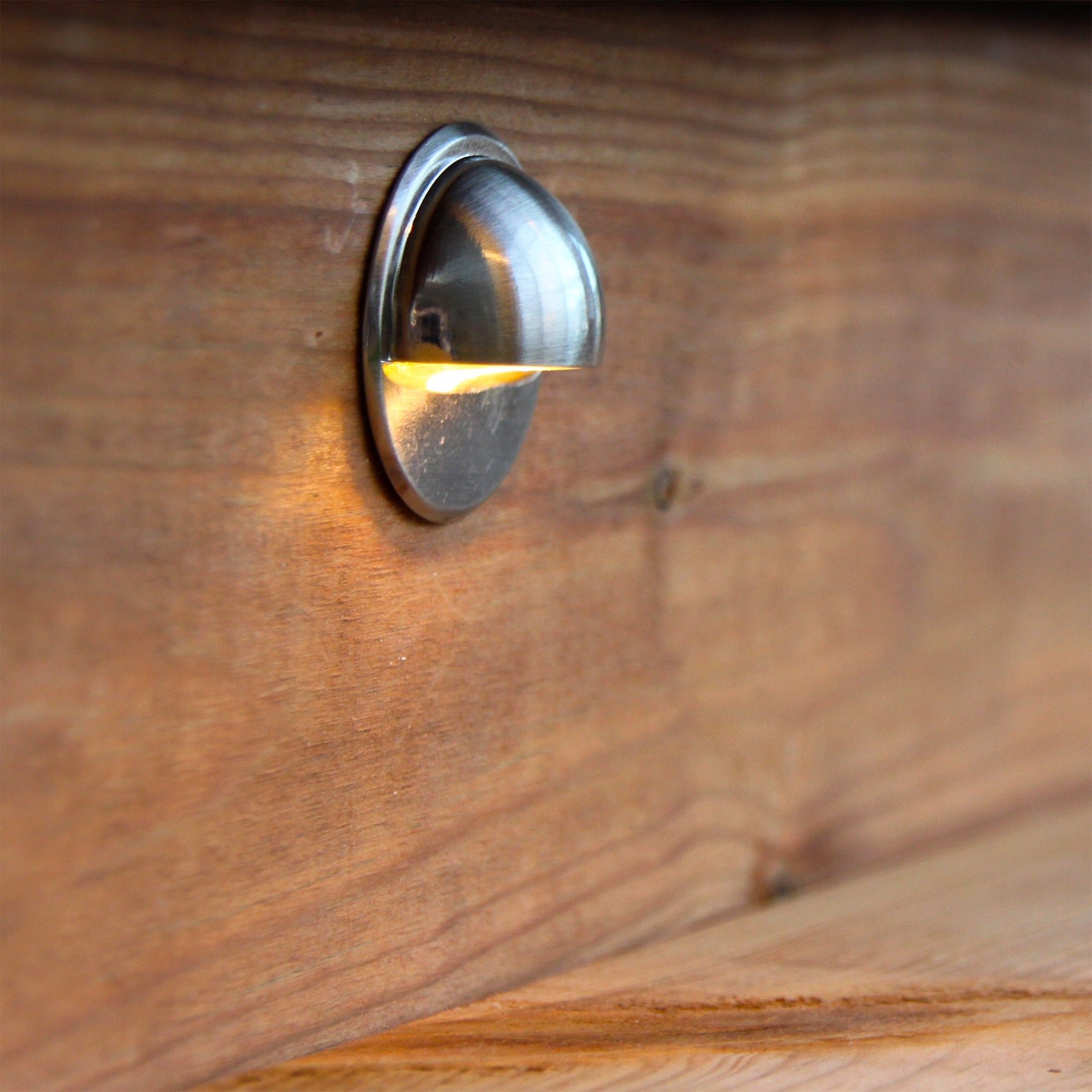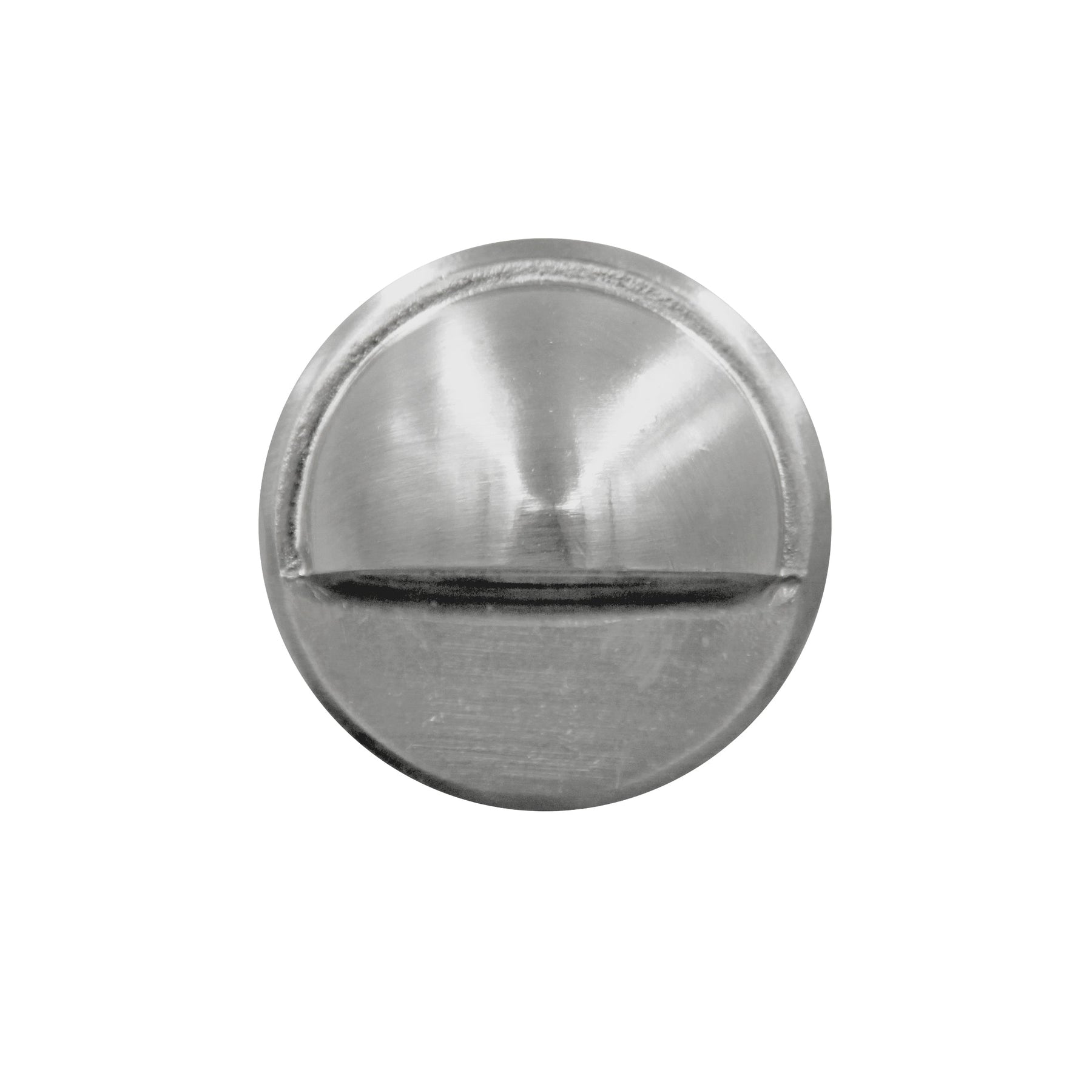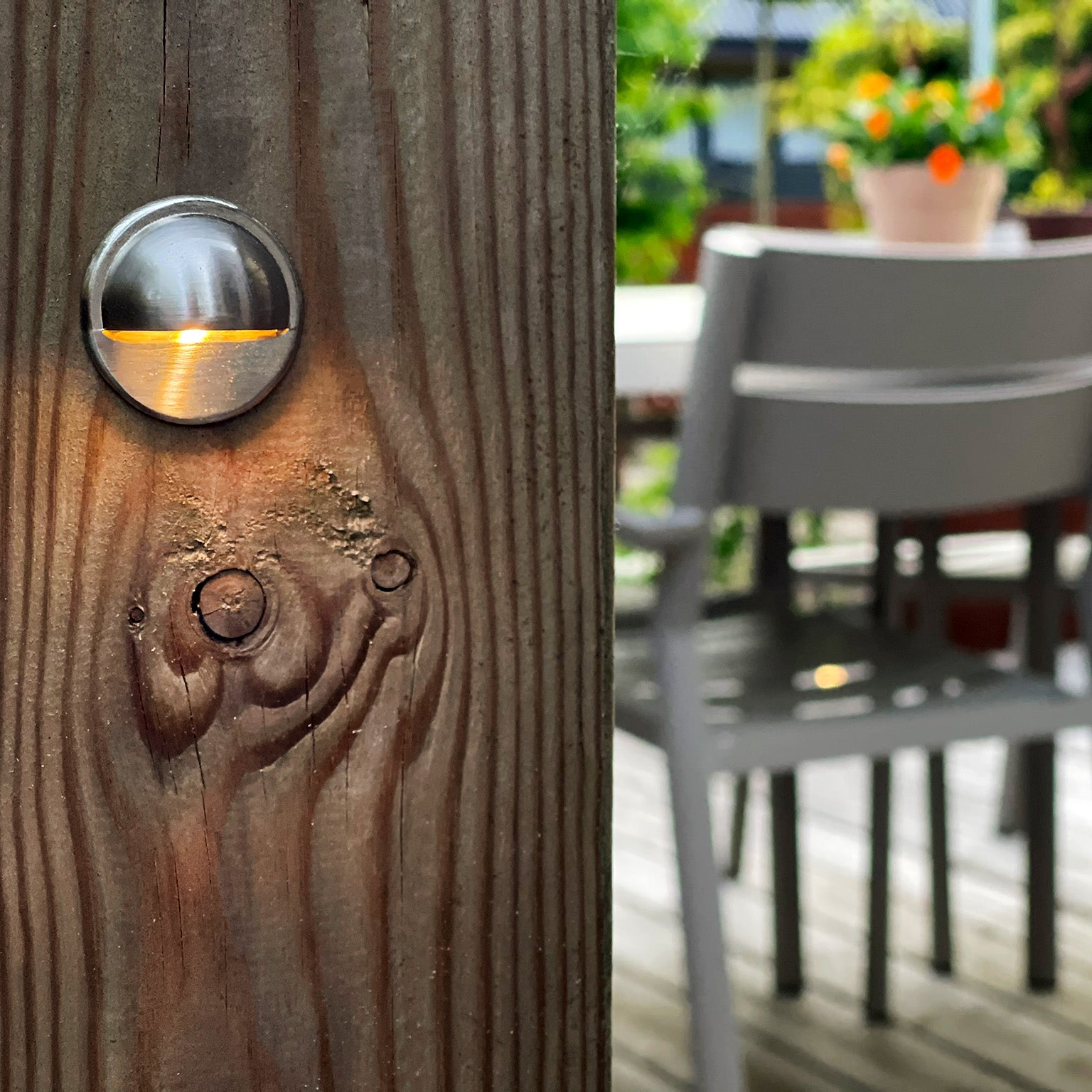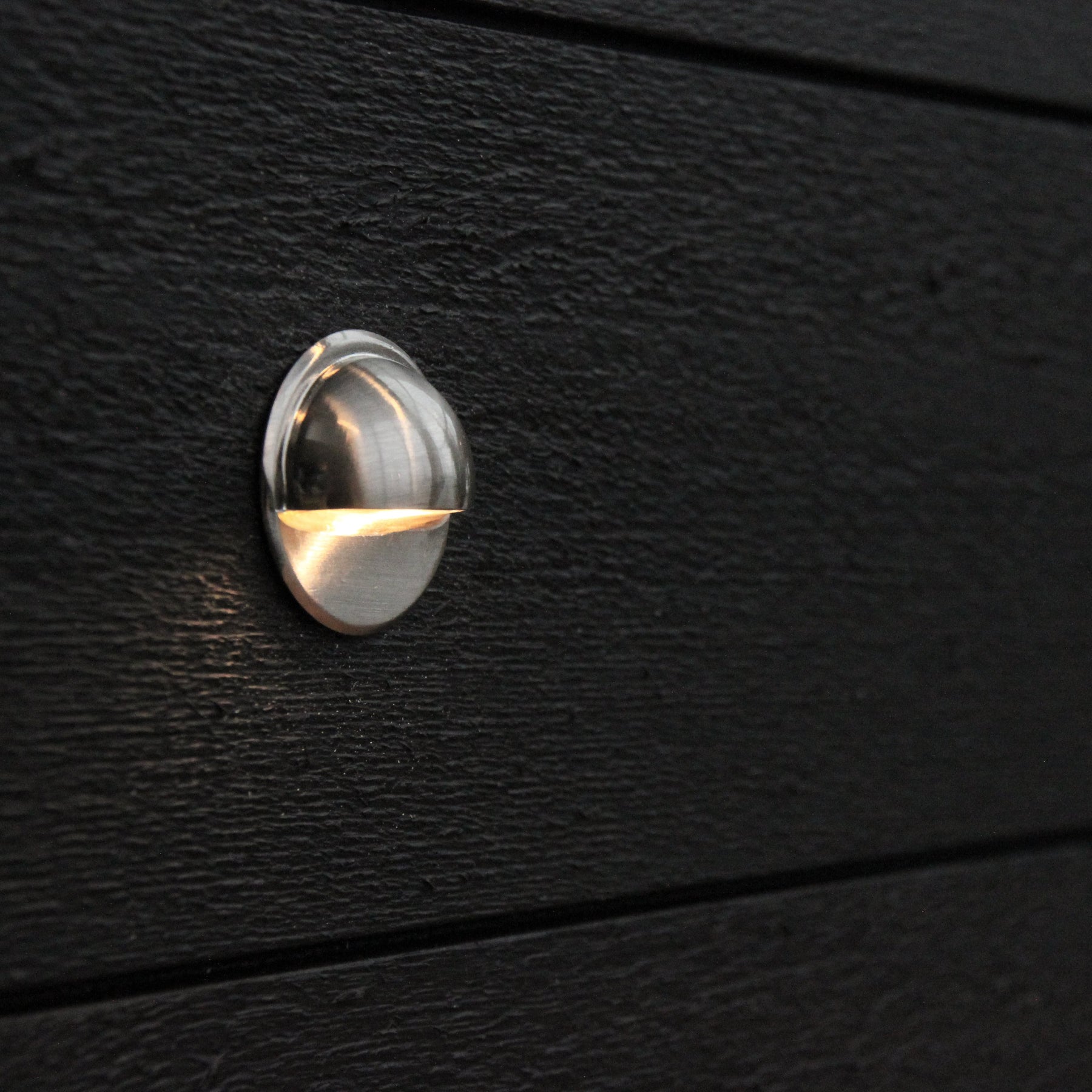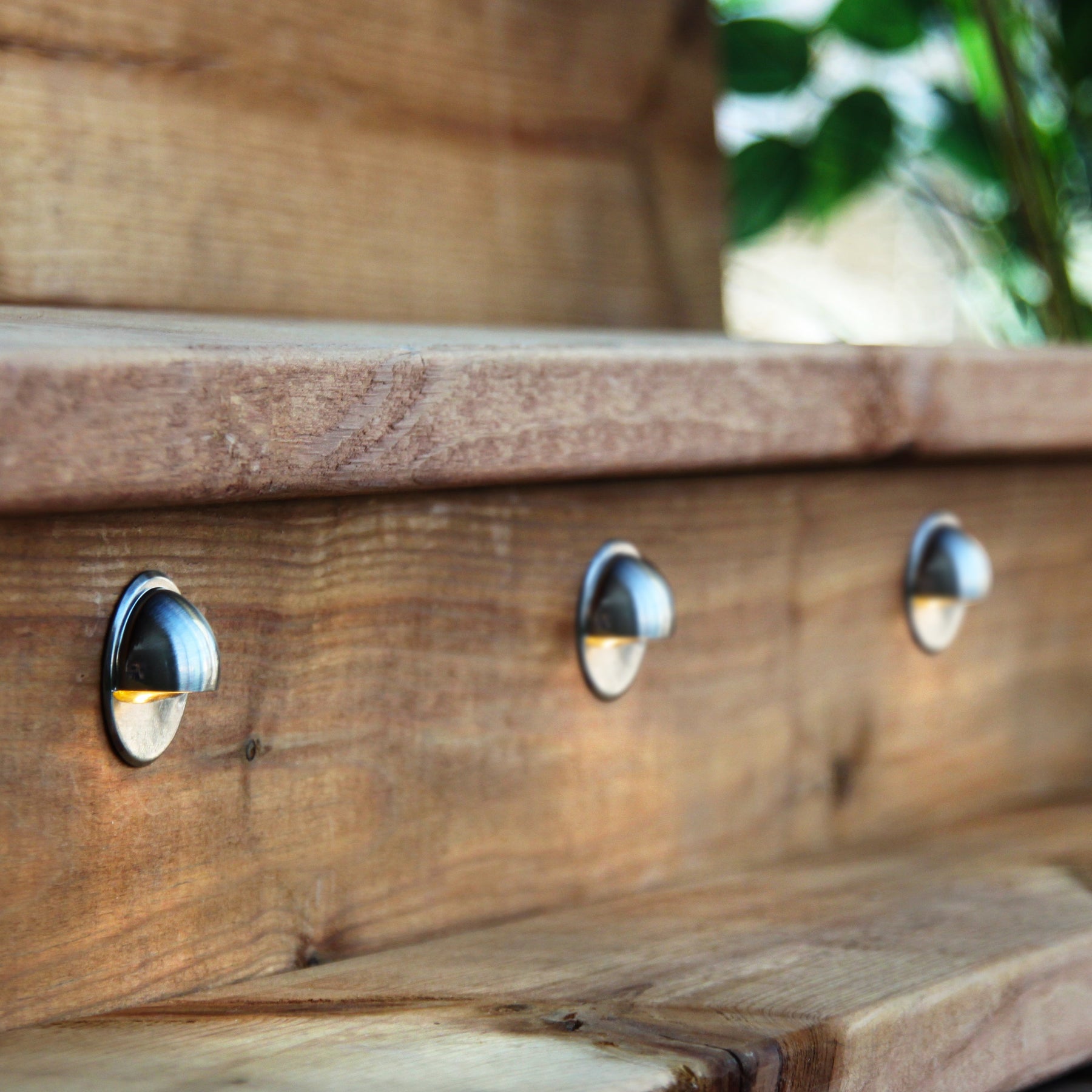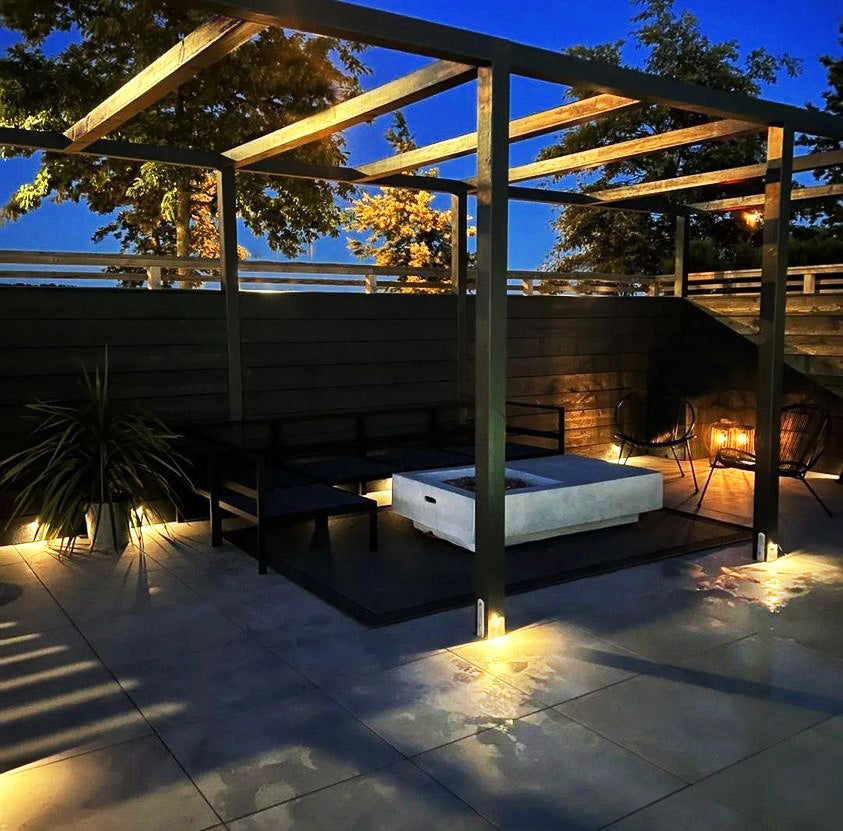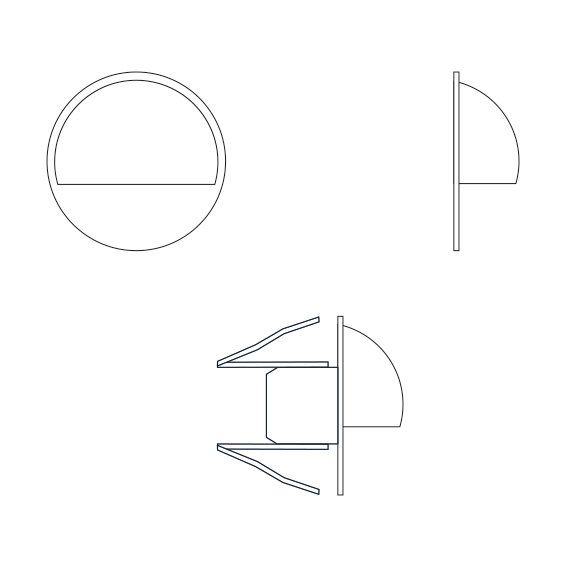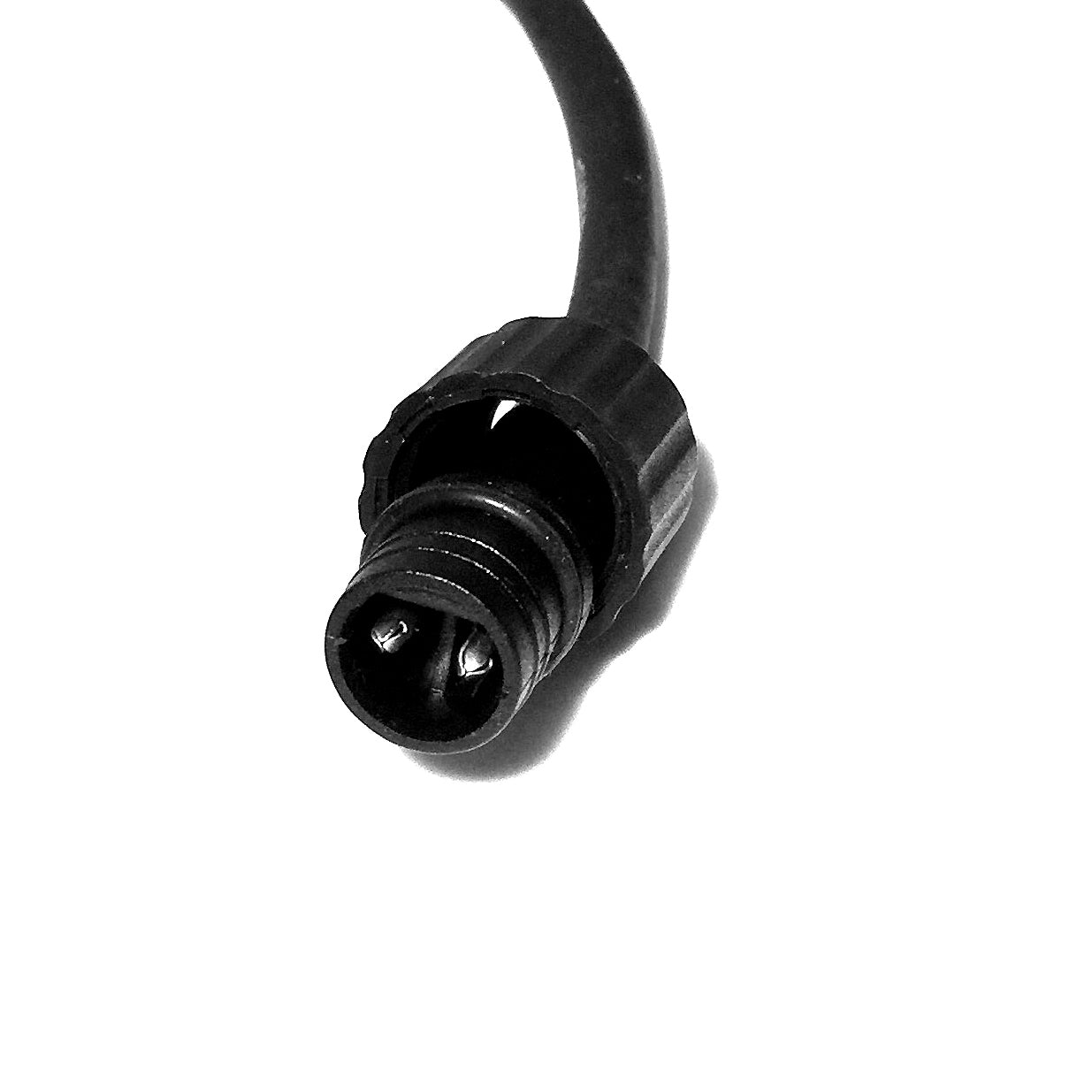 Aries x 1 (silver)
Aries is a nice, small lamp that works well installed vertically in stairs and steps. Or to mark the edge of a wooden deck. It has the look of a traditional deck light but is constructed with an "eyelid" to avoid glare.
Färg:
Aries is a nice, small lamp that works well installed vertically in stairs and steps. Or to mark the edge of a wooden deck. It has the look of a traditional deck light but is constructed with an "eyelid" to avoid glare.
Garden Plug & Play by LightsOn A flexible 12-volt lighting system for your garden. Easy to install and easy to extend (max 50m) to reach all parts of your garden. Designed in Sweden for the tough Nordic climate, all components are made of durable and weather proof materials, guaranteeing a long maintenance free life.
Don't forget the transformer. Choose a transformer that suits the total wattage of all your lamps. For optimal life we recommend that you load your transformer with no more than 85% of the max capacity.
Keep it simple! Add a photo cell that automatically turn the lights on in the evening and off again at dawn.
Specifications Aries (1 unit):
• 12 volt AC
• 0.5 watt LED (integrated light source)
• 10 lumen
• IP65
• Wide beam angle (90°)
• Warm white light (3000°K)
• Zink alloy, galvanized
• Ø 35 mm diameter (hole Ø 22-24 mm)
• 70 cm cable
Not finding what you need?
Click the button to reach the media bank that contains documents for all LightsOn products
Trädgårdstips
Ett hemligt spa i trädgården
Följ med Sofia Fixar när hon belyser och fixar till ett spa-rum i trädgården som ska fungera både efter bastun och ett dopp i poolen.
Jag har byggt ett utomhus-spa i anslutning till vårt badrum men också en utgång till poolområdet. Detta lilla "retreat" döptes lite skämtsamt till Nakenzonen av våra vänner, vilket verkligen är passande då tanken är att man ska kunna duscha där och känna sig helt trygg utan att grannarna ska riskera att kika in. 
Nu när allt är klart är det dags för att mysa till det med belysning. Pricken över i:et.
Utmaningen för mig denna gång är att det ska kännas mysigt och lyxigt men inte för skumt, så att barn som vill duscha efter ett dopp i poolen ska känna sig trygga och inte snubbla runt där inne. Jag har därför valt Aries (som är en av mina favoritlampor), Stix samt Stone. Det blir alltså både dekorativ och funktionell belysning i detta projekt. Då kör vi! 
För att skapa ett fint ledljus med små ljuspunkter väljer jag Aries – dessa söta & snygga små "ögonlock" kommer bli diskreta och bra i proportionerna. Först gäller det att lägga ut dem på prov för att se och känna efter hur stort avstånd det ska vara mellan dem.​​
Jag har markerat med blå tejp var lamporna ska sättas.  Det ger en bra förståelse för hur det blir innan jag börjar borra, samt att jag inte gör fel när jag väl sätter igång arbetet.​​
Du som läst någon av mina tidigare bloggar vet att jag, som så många andra, ogillar synliga kablar. Dessa ska så klart döljas smart. Det kommer att kräva lite extraarbete då alla väggar redan är byggda, men det finns en viss tillfredsställelse att hitta den smarta lösningen. Eftersom det finns kablar i många bra längder så går det att få till riktigt bra, det är jag helt säker på.
Först gör jag tre stycken testhål så jag inte borrar​​ ett för stort hål för Aries - de små fjädrarna på baksidan ska spjärna emot och sitta stabilt.
Alla kablar döljs inuti väggen och borras igenom regelverket så långt ner m​​ot marken som möjligt.
Jag numrerar även de brädor jag tog bort så att det ser exakt likadant ut som när jag började. Ibland kan en bräda ha svällt av fukten och då vill jag inte tvinga in den i fel hål så den flisar sig på kanterna. Bara ett tips!​​
Jag plockar alltså bort de brädor som gör att jag kan dra kablar och komma åt enkelt när jag installerar belysningen.
​​
Aries på plats
Nu är Aries på plats och alla brädor ska sättas tillbaka. Jag är så glad att jag numrerade dem då jag sparat massa med tid och säkert en helt del frustrationsmoment. 
Slutfixet
Vi sätter växterna vid duschen för att skapa en "vägg", det ska växa och bli högre. Det gör också att det inte finns något mörkt hörn. 
Tycker själv det blivit superfint och dämpat i den stora bambuväxten. I bambun har jag använt Stix, en lampa i tre delar. Stix är är väldigt effektfull och elegant samt lite mystisk på samma gång - på ett mycket bra sätt så klart.
Stone fick också vara med på ett hörn, då den också ger ett mysigt sken men men också ett funktionsljus som lägger sig över marken. 
Jag hoppas att du har fått nytta av mina idéer även denna gång. 
Lycka till!
Mer inspiration för din trädgård